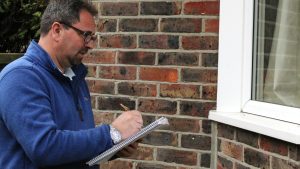 Q – What types of survey are there and which should I have carried out?
A – Surveys can be tailored to your specific needs but generally fall into four categories:-
1 – Valuation Survey – Really for mortgage company purposes and will give you no detail even if your lender lets you see it.
2 – Condition Survey – simplest form of survey and only tells you basic visual condition
3 – Homebuyers Survey – next level and suitable for most modern or unaltered properties
4 – Full Building Survey – top level survey for older, unusual and properties that have been altered over time.
Q – what is the purpose of a building survey, and why do you need one?
A – It involves and detailed inspection on site and will identify specific defects and other problems with the property. It enables you to make an informed decision on whether to purchase the property or not and if you do what will need doing to bring the property into good condition.
Q – My neighbour has obtained planning consent for a large extension right on our shared boundary. I objected to the application but they still obtained consent can I use the Party Wall Etc Act 1996 to stop what they propose?
A – The Party Wall Etc Act 1996 is an enabling Act and is designed to allow people to carry out works they have a right to do in a manner which will protect anyone likely to be affected by those works. In this example the person carrying out the works may need to serve one or more of three notices on the neighbour. A Party Structure notice for works to the party wall where a beam is inserted to support the rear wall where removed, a line of junction notice where building the flank wall of the extension on the boundary line and/or an excavation notice where digging foundation trenches close to the neighbours property and below the bottom of their foundations.
Whilst you can dissent from the works notified you cannot stop them. The owners agree to appoint a joint surveyor or appoint their own surveyors to settle any dispute.
Q – My neighbour is planning a loft conversion which I am happy for them to do as we had one several years ago. There is a lot of steel work being placed into the shared wall and we are worried out damage. Is there anything we should do?.
A – Whether you agree to the works proposed or not you should ask for a schedule of condition to be taken of your property so that any damage can be compared afterwards. Your neighbour will be liable for making good any damage caused by the works.
Q – My business is taking a lease on a disused bank in the local town and we will be turning it into a restaurant. What consents do we need?
 A – On the presumption that you have the Landlord's consent you will subsequently need to apply for planning permission for a change of use as banking and restaurants come under different planning use classes. It is likely that there will be works requiring Building Regulation Consent also.
Q – I want to take out an old hedge and put up a new fence and I am not really sure where the boundary is and I am worried about upsetting my neighbour. What should I do?
A – Always talk to your neighbour about what you want to do and why. If they are unsure about the position of the boundary as well you should agree on the appointment of a surveyor and who will pay for them. The surveyor can assess the boundary position and take measurements and compare against any documents that exist such as Title plans. The surveyor can then plot the line for you to place the fence in the correct place.
Client review:
Max Wadiya, London
"We have used the services of Ashley Jones as a party wall surveyor a couple of times already and have been very satisfied with the professional manner with which he handled the project, his prompt attention to details that needed our or his attention and his thoughtful guidance throughout."
For more information
call Ashley on 01825 890222